CCI Virtual Workshop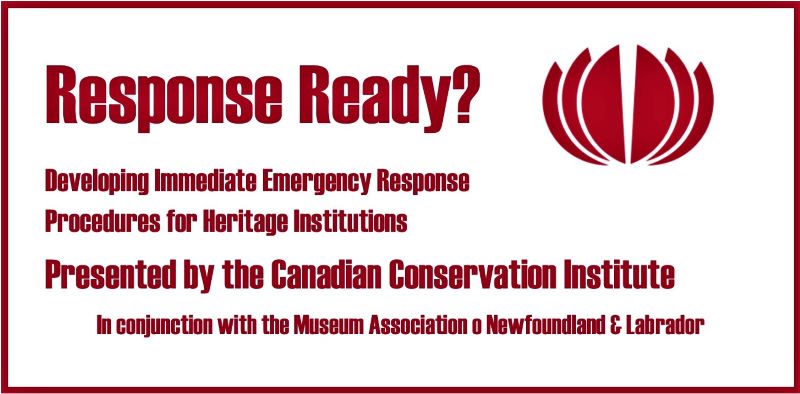 Response Ready? Developing Immediate Emergency Response Procedures for Heritage Institutions
The Canadian Conservation Institute presents a virtual workshop pilot project on the topic of developing Immediate Response Procedures for your Emergency Response Plan.
As a participant, you will learn about the objectives of emergency response, and the critical first steps that help keep people and collections safe.
You will use the information and worksheets provided to:
• Complete a simple risk assessment of the emergency hazards that could impact your institution and collection.
• Identify which emergencies should have Immediate Response Procedures in your Emergency Response Plan.
• Prepare Immediate Response Procedures suitable for your institution and add them to your Emergency Response Plan.
• Learn how to test the usefulness of Immediate Response Procedures through a tabletop exercise.
Participation in the virtual workshop will involve:

1. Attendance at two online sessions:
Wednesday, 22 January 2020, 12:00-13:00

Wednesday, 29 January 2020, 12:00-13:00
2. Review of workshop resource materials prior to the first session (15-30 minutes)

3. Completion of exercises between the two virtual sessions (30-60 minutes)
This Response Ready virtual workshop provides an engaged, interactive learning experience in which to learn and make progress on preparing or updating your Emergency Response Plan. You will develop Immediate Response Procedures customized to your institution with support and feedback from CCI experts and peers. You will also receive an Emergency Response Plan template to assist with plan preparation.
Since emergency planning benefits from multiple perspectives, we encourage participation by more than one person per heritage institution, ideally those who are responsible for emergency incident management.
Due to the interactive nature of this virtual workshop, attendance in the virtual sessions is restricted to 10 institutions, with no more than three participants from a single institution.
Space is limited for this virtual workshop.
MANL members may register by contacting the MANL office
Email: manl@nf.aibn.com