MANL COVID-19 Update: June 12, 2020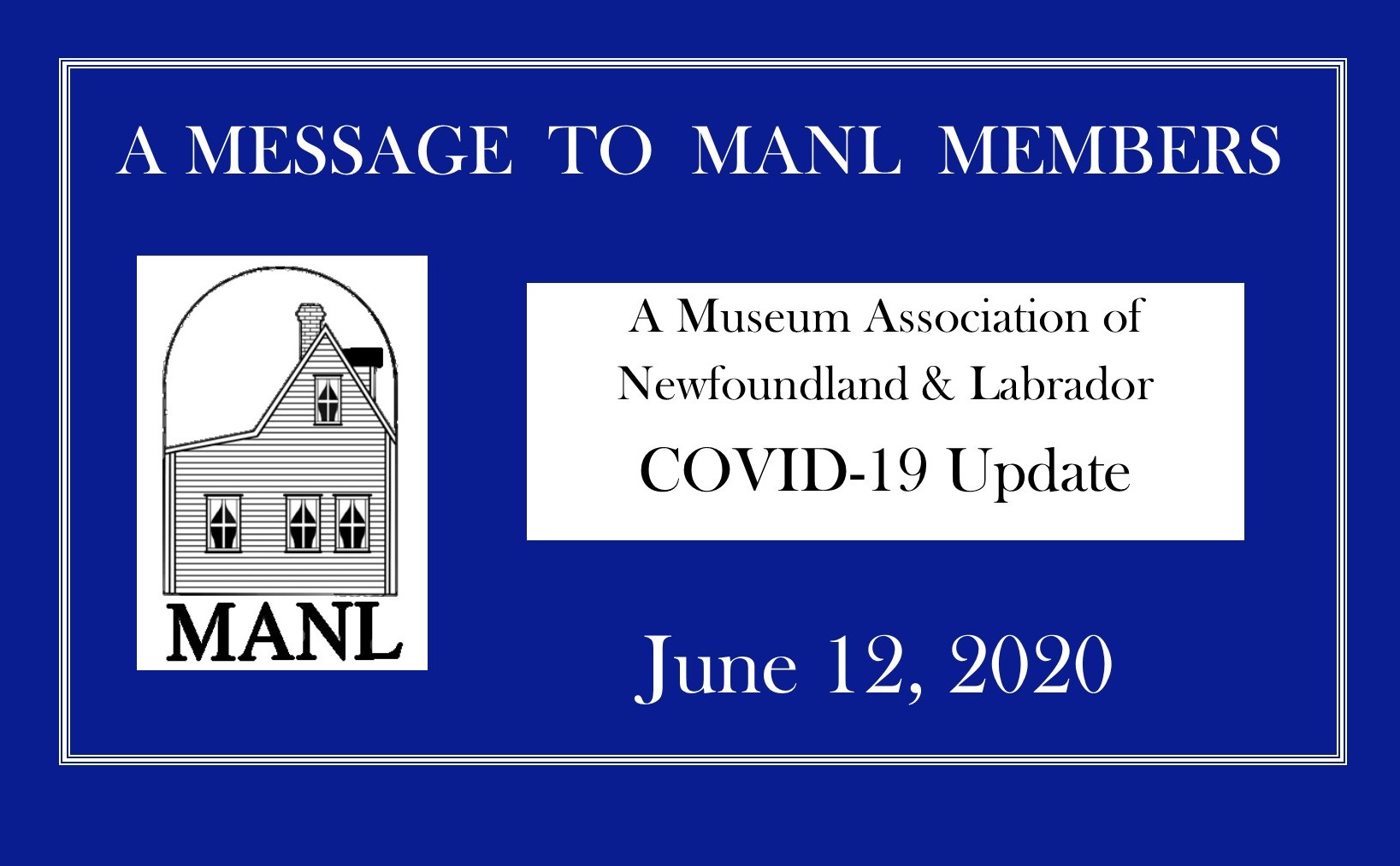 Good Afternoon,
We continue to work with our federal counterparts and the Department of Canadian Heritage on the Federal Government's 53 million dollar program to assist museums during this pandemic. Hopefully, we will hear that program application will be available next week. Collectively, the Canadian Museum Association and the Provincial and Territorial Museum Associations are worried about the application turnaround time and eligibility of our members. When we are notified, MANL will let our members know, sharing the details that are made available to us.
Last week, MANL and many of our members participated in One Industry - Readiness & Consultations for Natural/Cultural/Heritage Sites, Attractions, and Venues with Hospitality Newfoundland and Labrador. It was a great session. MANL's President Teresita McCarthy was one of the guest panelists. One of the items discussed was the new 25 million dollar Tourism Operators Fund. Eligible tourism operators can apply for a one-time, non-repayable contribution of either $5,000 or $10,000, dependent on gross sales. If you have not applied, review the following information and apply if you qualify.
Here are the eligibility guidelines and links that HNL provided on the fund.
Please click here to view eligibility guidelines for the program.
To Apply For This Program Please Click Here
Required Information
If you are planning to apply for the new Tourism and Hospitality Support Program after the process opened on June 8th, 2020, you will be required to provide information such as:
2019 business and financial information pertaining to gross sales, net profit and number of employees
2020 financial information pertaining to estimated losses to date and forecasted losses to December 31, 2020
details of any other COVID-19 support funding applied for or received
details regarding a reasonable plan to continue operations in 2020 and/or 2021
CRA Business Number if applicable.
You will be required to upload specific documents to the online application system, as outlined below:
For Existing Businesses
VOID Cheque
Government-issued Identification – a picture of a government-issued identification for the person completing the application must be provided.
Financial Statements – prepared financial statements reflective of the 2019 operating season. Where prepared financial statements are not yet available, in-house generated profit/loss or income/expense statements for the same time period will be accepted.
Please Note: Documents uploaded to the system must be one of the following formats: .PDF, .PNG, .JPG, or .JPEG. Maximum file size is 20MB. If you have questions, please send an email to: THSP@gov.nl.ca
We continue to work from our homes keeping our new virtual office open. We will provide updates to our members when new information is available. Our social media feeds are active, and we have been bringing museum information to our followers. Please join our new MANL Membership Facebook Group. There have been some great discussion there.Below you will find our ever growing list of previous announcements for your quick reference. We hope that you are all safe and adhering to the government recommendations at this time. Remember we are here for you during this time, contact us if you have any concerns.
For all MANL updates, please visit our COVID-19 Updates Page.
Take Care,
Ken Flynn
Executive Director
Please visit MANL's
Resources & Information for Museums & Heritage Societies Page
for more information