COVID-19 NEWS
Resources & Information
for Museums & Heritage Societies
UPDATE: COVID-19 Emergency Support Fund for Heritage Organizations
July 21, 2020 – The Department of Canadian Heritage (PCH) has expanded the eligibility criteria for the Museums Assistance Program — COVID-19 Emergency Support Fund for Heritage Organizations to include small museums with budgets between $2,000 and $10,000. You can access the application via the funding portal.
This extension of funding was the result of ongoing dialogue between the Canadian Museums Association, the provincial and territorial museums associations and the Department, where the museums associations very strongly advocated for this funding at the smaller museum level. We want to thank the Department of Canadian Heritage for their openness in extending this much needed funding to smaller institutions.
The closing date for applications is September 1, 2020. PCH invites people to apply early, as the intake and processing of applications is ongoing. They have also provided an infographic for estimating the amount of support you could be receiving from the Emergency Support Fund ranging from $1,000 to $100,000.
Click here to access the COVID-19 Emergency Support Fund for Heritage infographic.
During our last meeting with PCH, certain funding details were clarified. Please note that this funding is eligible to all institutions that would typically be open at any time through the year, regardless of open status for 2020. For example, if you are typically open for the summer season, but have elected to remain closed this summer due to the pandemic, you are still eligible for this funding.
Also, the definition of a collection has been expanded to include "Indigenous cultural heritage and belongings," as defined by the holding institutions, in an effort to make the funding more inclusive of Indigenous cultural centres that may not use collection definitions more actively used by Western museums.
Should you require support with your application you can contact the Department of Canadian Heritage regional office closest to you, but are also encouraged to contact the PCH main line, who have been well trained in this funding and its requirements.
Contact the Department of Canadian Heritage
Email: PCH.info-info.PCH@canada.ca
Telephone: 1-866-811-0055, Call toll-free from all regions, Monday to Friday, 8:30 a.m. to 5:00 p.m. (Eastern time)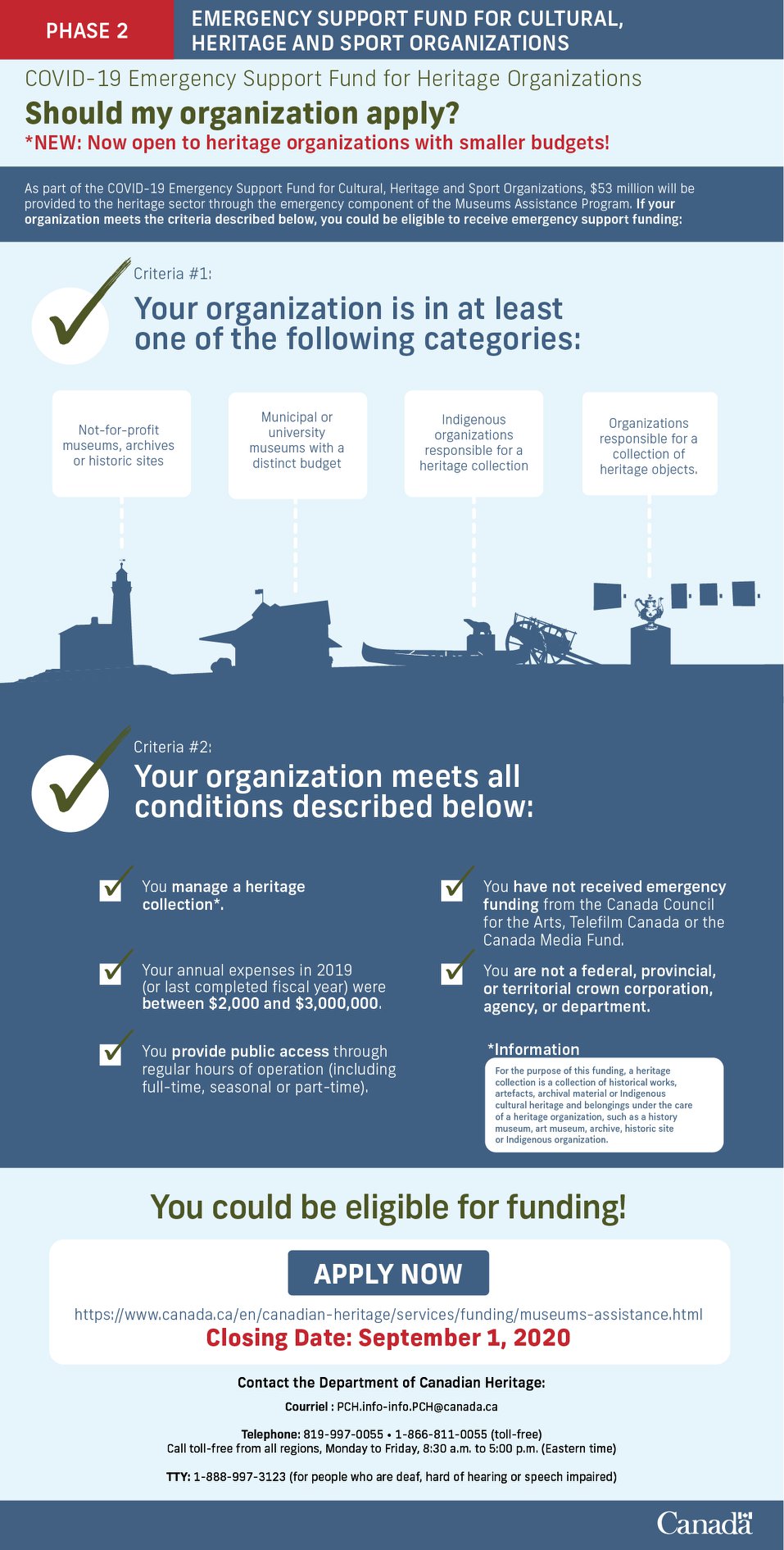 ---
---
---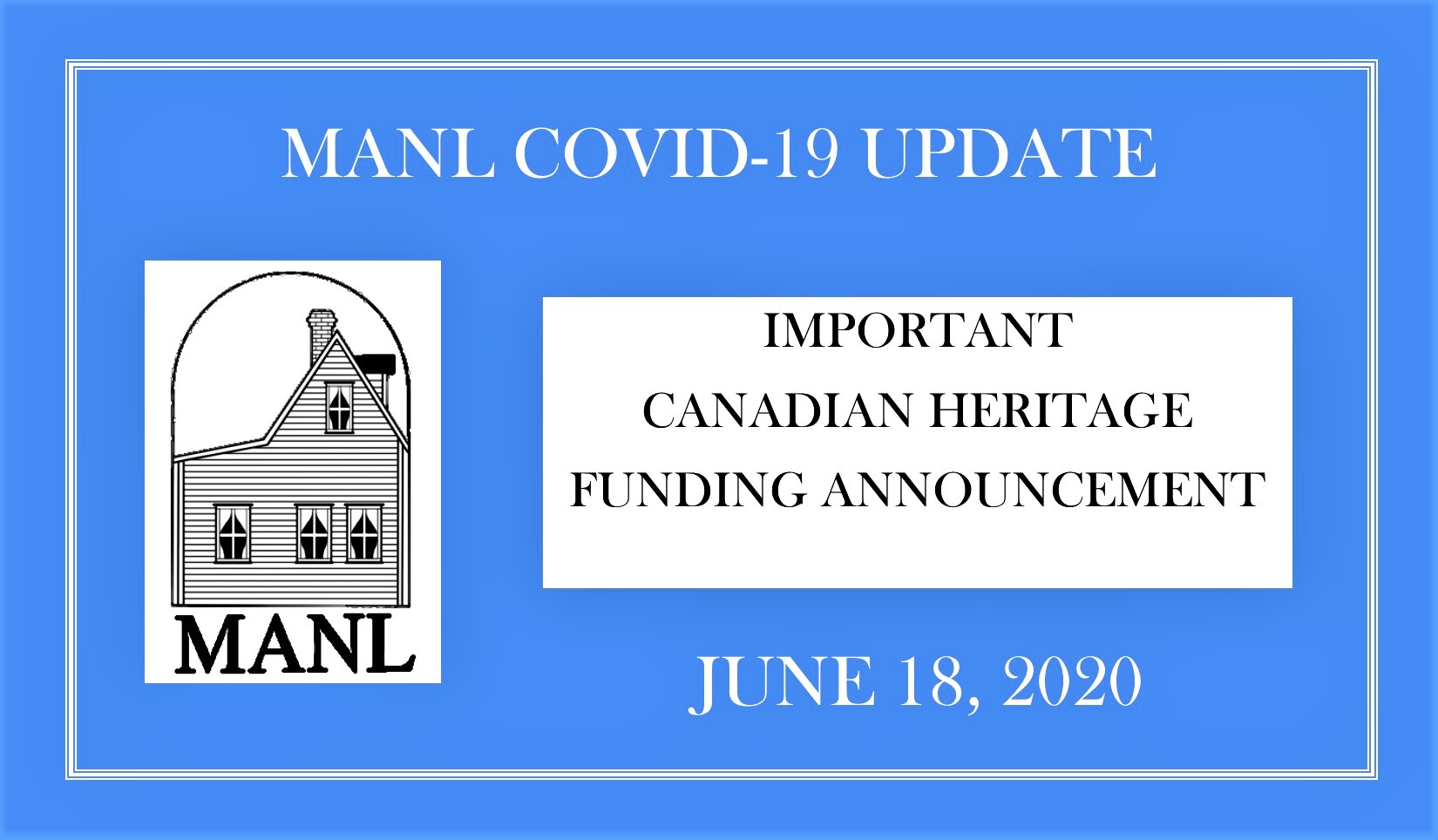 June 18, 2020
Good Afternoon,
Today we have learned from Canadian Heritage that the application portal has been opened for the $53 million COVID-19 relief funding. I recommend that all museums apply by following the link below. I will be meeting with the Department of Canadian Heritage staff tomorrow afternoon to further discuss the program and details.
Here is the information provided by the department:
Today, the Honourable Steven Guilbeault, Minister of Canadian Heritage, confirmed the implementation of the first component of Phase 2 of the COVID-19 Emergency Support Fund for Cultural, Heritage and Sport Organizations, launched in May 2020. This fund, which totals $500 million, is being used to maintain jobs and support the business continuity of organizations impacted by the crisis.
The government is now ready to launch the first component of Phase 2 of the COVID-19 Emergency Fund for Heritage Organizations. This component provides $53 million in support to organizations with heritage collections through the emergency component of the Museums Assistance Program. Eligible not-for-profit organizations such as museums, archives, historic sites, Indigenous organizations, official-language minority communities, or municipal and university museums with separate budgets, will now be able to apply for funding.
Non-eligible institutions include provincial/territorial crown corporations (although cultural institutions associated with educational institutions or universities would be eligible), zoos, aquaria, public libraries, and other organizations that do not have a heritage collection. Heritage institutions with operating budgets exceeding $3 million are also ineligible at this time.
Since our initial announcement in May, we realised there are very small community museums with smaller budgets that are seasonal, dependent on volunteers, and that may not reopen this summer. We will be adjusting the sliding scale to be able to provide grants below $5,000 that are proportional to those budgets.
For information on Application Guidelines – COVID-19 Emergency Support Fund for Heritage Organizations – Museums Assistance Program please follow this link.
Heritage organizations eligible for the Museums Assistance Program can now apply online through this new portal. Or https://pch-covid19.canada.ca/en-CA/
We continue to work from our homes during Alert Level 3 keeping our virtual office open. We will provide updates to our members when new information is available. Our social media feeds are active, bringing museum information to our followers. Please join our new MANL Membership Facebook Group, there have been some great discussion at https://www.facebook.com/groups/MANLMembers/. Below you will find our growing list of previous announcements for your quick reference. We hope that you are all safe and adhering to the government recommendations at this time. Remember we are here for you during this time, contact us if you have any concerns.
Take Care,
Ken Flynn
Executive Director