Professional Development
manlMuseum Studies Certificate Program
Training Opportunities:


SPRING 2020
Due to the present situation with COVID-19, all MANL workshops scheduled
from March - June
have been postponed to a later date.
A Canadian Conservation Institute (CCI) Workshop
An Elective Course for MANL's Museums Studies Certificate Program
This workshop discusses the importance of preparing for emergencies, shows how to form and train an emergency response team, provides guidance in creating an effective emergency plan and offers training in the salvage of water-damaged collections. The workshop is highly interactive and includes lectures, demonstrations, discussions, group exercises and hands-on activities.

Dates: June 17-18, 2020
Hosted by: ANLA & MANL
Workshop Location: MANL Training Centre; 200 Military Road St. John's, NL.
Registration Fees: ANLA/MANL members $180 /Non-members: $205
Program Information & Learning Objectives
Apply for CMA Bursary
Apply for a CMA bursary six weeks before the event you are planning to attend.
Please contact the Canadian Museums Association (CMA)for more information:
Telephone: 613-567-0099 x222 / Fax: 613-233-5438
Email: bursaries@museums.ca
Website: https://museums.ca/site/cma
---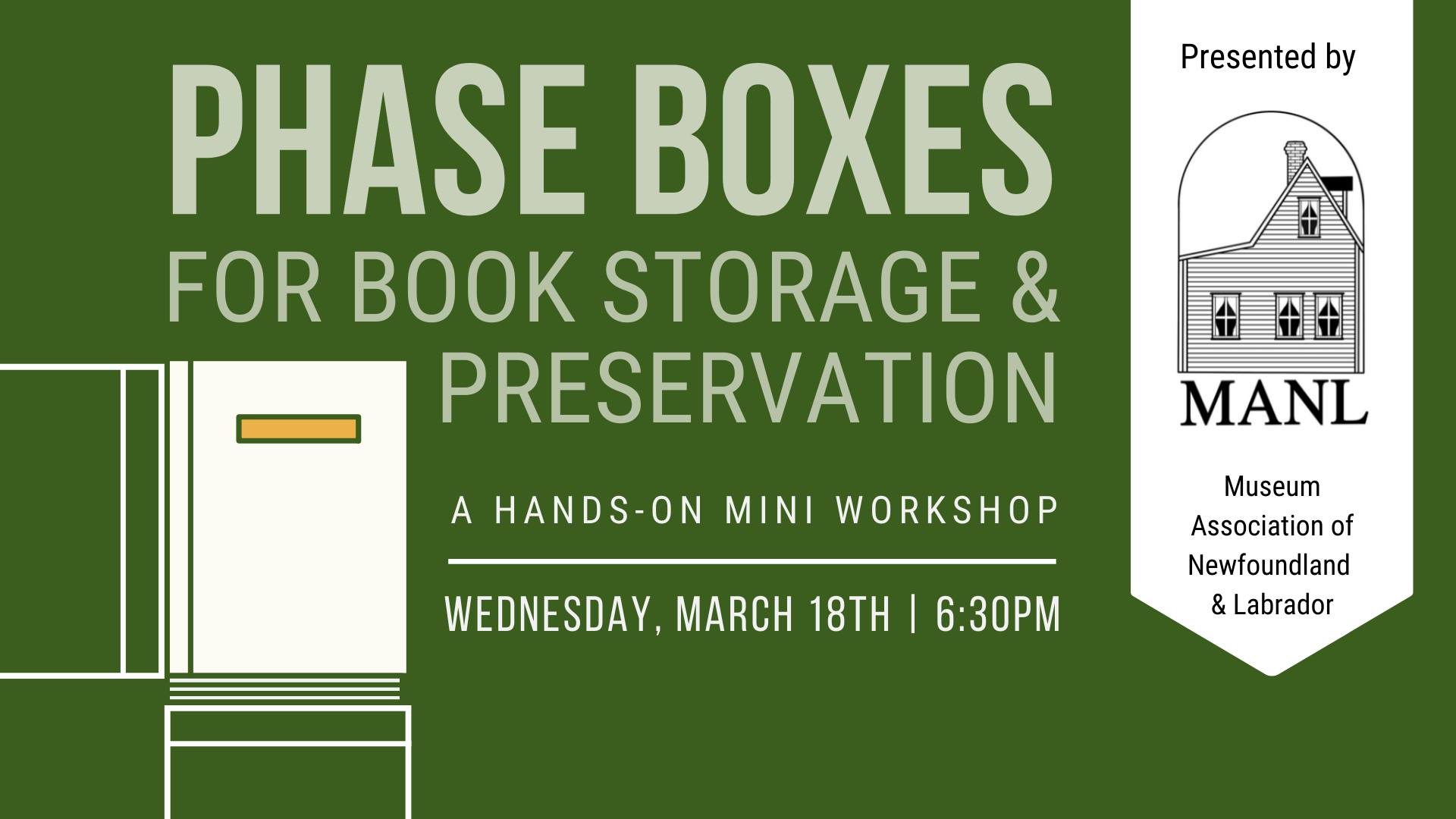 A Phase Box is a simple, low-cost, enclosure made from archival quality materials. It is designed to protect rare, fragile, or valuable items from damage and further deterioration during storage.
The A.C. Hunter Library is pleased to partner with the Museum Association of Newfoundland and Labrador to host this hands-on mini-workshop. This is an adult-only program; sharp knives will be involved. All materials will be supplied.
Register with your Library card by calling 737-3950. There is a wheelchair accessible, gender inclusive washroom onsite.
---
This workshop has been postponed due to COVID-19.
---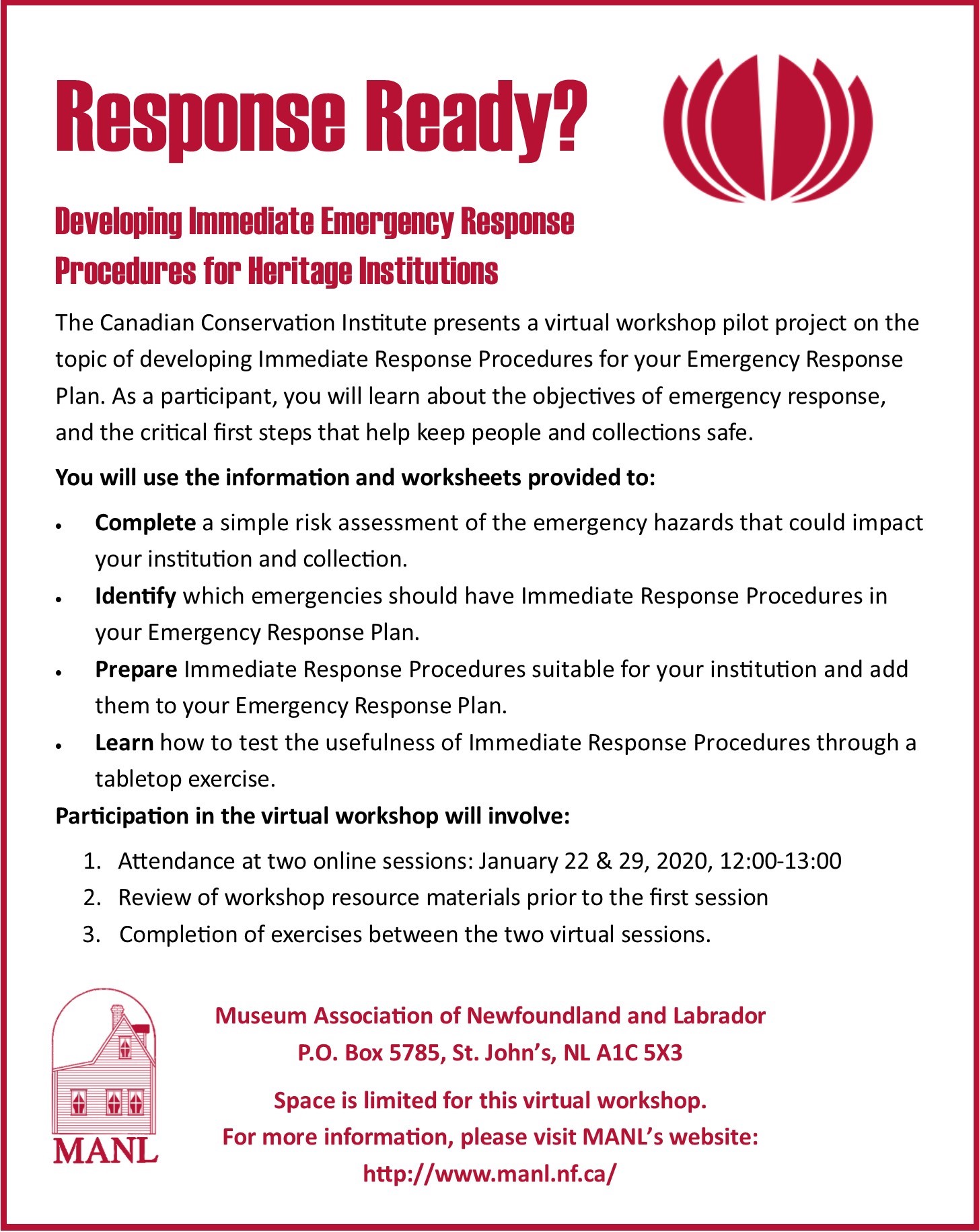 ---
---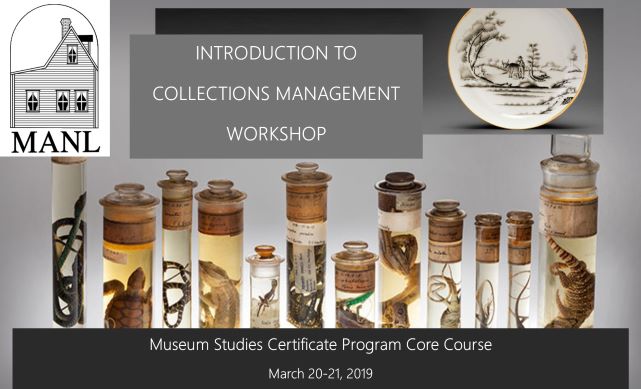 A two-day core course for MANL's Museums Studies Certificate Program
Date: March 20-21, 2019 Time:

9 – 4:30 pm
Fee: $130 (MANL), $155 (non-members)

Instructor: Paula French,
Private Conservator
Please click here for more information

---
An elective course for MANL's in Museums Studies Certificate Program
Date: March 22, 2019
Time: 9 – 4:30 pm.
Fee: $85 (MANL), $110 (non-members)
Instructor: Anne Madden,
MANL Outreach Officer
Stay up to date on Professional Development Workshops! Like us on Facebook, follow us on Twitter, or visit our website: www.manl.nf.ca. Are you receiving our weekly Listserv? Call (709) 722-9034 or email manl@nf.aibn.com to be added & stay up to date on museum announcements!
---
---
Cancellations received less than 5 days in advance are not eligible for refunds. Participants who do not attend remain responsible for full payment.