Introduction to Collections Management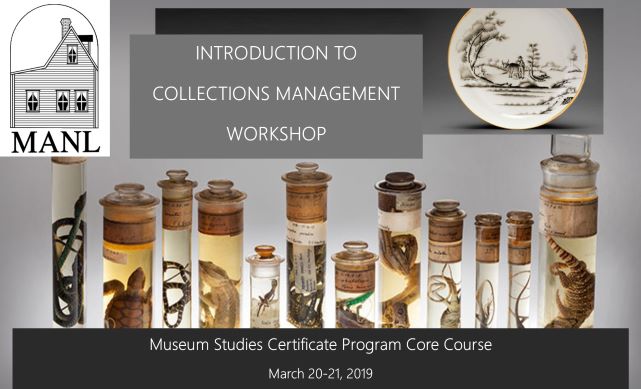 Introduction to Collections Management
A two-day core course for MANL's Museums Studies Certificate Program
Date: March 20-21, 2019 Time: 9 – 4:30 pm
Fee: $130 (MANL), $155 (non-members)
Instructor: Paula French, Private Conservator

During this two day workshop participants will learn about collections management policies and procedures and skills required to manage museum collections. This course explores topics on public trust and museum collections, acquisitions, registration, cataloguing and records management. This course will also provide an introduction to collections care, handling and storage as well as collections access and security.
Location: MANL Office/Training Centre; 200 Military Road, St. John's, NL
To Register:
Telephone: (709) 722-9034 / Fax:(709) 722-9035/ Email: manl@nf.aibn.com
Cancellations received less than 5 days in advance are not eligible for refunds. Participants who do not attend remain responsible for full payment.